VACANCIES
Join our team!
If we have any current vacancies, we will display details below.
To apply, please either follow specific instructions in the advert, or use our application form – take note of the relevant email address to send it to.
Good luck!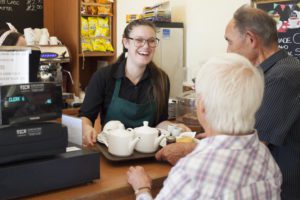 An exciting opportunity has arisen! We are looking for an enthusiastic, hard-working, candidate to join our award-winning team.
The post holder will be responsible for overseeing all financial aspects of the site from daily cash banking, to sales invoicing & reporting.
The perfect candidate will have previous experience in a financial role, be friendly & adaptable.
Please take a look at the job description. To apply, please send your CV and covering letter to Jo Massy – jmassy@kentlife.org.uk. The closing date is 30th November 2021.
SEASONAL Catering Team Member
Our catering team members have a varied role at Kent Life – this seasonal position might include a shift in the tea rooms, indoor play barn, pizza hut, or even decorating gingerbread!
The ideal candidate will be hard working, a team player with excellent guest service skills. Duties will include all aspect of catering from taking and processing orders to cleanliness of all working areas, cash & credit card transactions, manual handling and stock rotation and replenishment.
Take a look at the job description for more details.
Applications should be made using this application form, and emailed to kcook@kentlife.org.uk.
Good luck!
Land Train & Tractor Driver
We are looking for experienced drivers to come and join our lively team here at Kent Life. You should be hard-working, friendly and dedicated, with a can-do attitude.
Full, clean license required – with minibus and trailer towing essential.
Due to the nature of this role, applicants must be a minimum of 25 years old.
Take a look at the job description and person specification to see if this role is for you.
Applications should be made using this application form, and emailed to mbass@kentlife.org.uk.
Good luck!
VOLUNTEERING
Would you like to make a difference and lend a hand in conserving all aspects of rural life? Enjoy your passion, meet new friends and make a difference by volunteering at Kent Life, whatever your interests or skills, we would like to hear from you
Kent's Life volunteer programme is varied and adaptable to your skills and interest. Here are just some of the opportunities we have for our volunteers:
Planting and caring for the medieval herb garden

Growing and planting of wild flowers and produce in our farmhouse gardens

Assisting our Site Team with general maintenance and repairs

Livestock husbandry and welfare
To be a volunteer at Kent Life please contact enquiries@kentlife.org.uk or call 01622  763936. Please note: The minimum age for volunteering at Kent Life is 18.
Alternatively, you can download either an Adult Volunteer contact form, or a Student Volunteer/Work Experience contact form and return to enquiries@kentlife.org.uk.