Meet the people who helped the garden of England grow, and acquaint yourself with the homes and lifestyles of Kent's rural past as our Vintage Village is brought to life. Petts farmhouse was originally located four miles from Kent Life, and has now been restored to its Victorian splendour – just be warned to keep an eye out for the ghosts that roam here.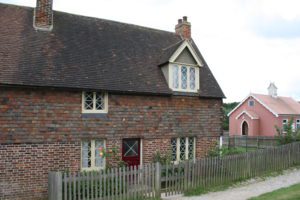 Second World War cottages from nearby Lenham display the typical home of a wartime housewife; as furniture and fittings were in short supply and rationed, these properties took on a 1930s style. Our Second World War home is even complete with sticky tape on the windows to reduce shatter, and an Anderson shelter in the back garden.
A historical survey dates Sandling Farmhouse to the 16th century. Today, vintage chic is displayed throughout the 1950s homestead. An exhibition in the attic details the history of the house and its various owners, as well as a snapshot of life in the 1950s.
There is so much more to explore in our collection of original buildings, with the Village Hall relocated from Ulcombe, the Granary, the Oast House, traditional Hoppers' Huts, and the working blacksmith's forge. A nostalgic trip down memory lane, for both old and young alike. Please be aware that at weekends, some of our historical buildings may not be accessible due to weddings and functions.