Get your boots muddy with a true taste of rural Kent. At Kent Life, we showcase and breed traditional farm animals, with our free-range livestock including sheep, cattle, pigs, horses, donkeys, goats, poultry, rabbits, guinea pigs, ferrets, ducks, geese and alpacas. All animals are housed in historic outhouse barns, so visit today and experience a real working farm and farmyard.
Cuddle corner provides the opportunity to get up close and personal to some of our smaller farmyard friends – a must for a family day out in Kent. Our daily entertainment schedule also offer the chance to meet some of our friendly animals with feeding and grooming sessions. See what else you can discover by taking a stroll along our nature trail.
The Cobtree Young Farmers' Club meet at Kent Life every Saturday and learn about general husbandry for all our farmyard animals, with emphasis on cattle, sheep and pigs. 
If you find you have a favourite when visiting, why not consider adopting one of our animals?
Bottle Feeding
You can help with the daily feeds of  goat kids!
Lamb Bottle Feeding: Our lambs are feeling a little under the weather at the mo. To help them get better, we need to give them some space and minimise contact with our guests. As such, we're sorry that the lamb bottle feeding activity will not be available for the next few days.
Goat Kid Feeding: In the Farmyard at 11am & 4pm
No need to book for these, just turn up at the scheduled time.  These are popular activities, so there may be some waiting. Please be advised that these times are subject to change, depending on the feeding needs of the animals.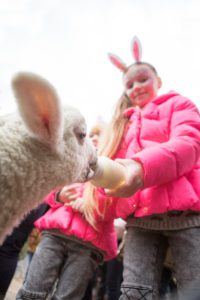 Important Message for Pregnant Women
We advise pregnant women not to enter our lambing sheds at this time. You are more than welcome to explore the rest of our attraction.