Hey there, fellow farm enthusiasts!
Let us introduce you to Rob Bracken, the new General Manager of Kent Life. With over 30 years of experience in the leisure and food service industry, Rob is the perfect person to take our family-friendly attraction to the next level. Now come behind the scenes to meet him…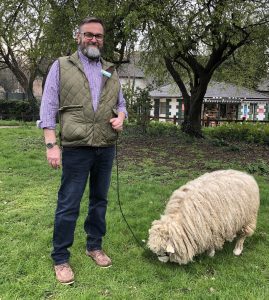 Q: Tell us a bit about yourself and your working history…
A: "Having previously lived in Kent in the mid 1990's I relocated back from the Midlands three years ago, the call of Kent was just too much for me. You could say that all my jobs and experience gained over the years will stand me and the team in good stead here at Kent Life.
"I have been fortunate to have had a very diverse and interesting career. A perfect fit for my character, I relish a challenge whilst I am at work. Along with being on the TV (find out where in my interesting fact below!), I have performed stand up in front of 300 people for charity, and yes, it's on YouTube! Oh, and I performed as Danny Zuko but that's another story!
"I've previously worked with big names like Woolworths Cafes, Sainsburys cafes, and even served as Chief Operating Officer of Twycross Zoo in Leicestershire and Racecourse Manager at Leicester Racecourse. So, in a nutshell, I've had lots of fun being involved with food service and leisure since 1988."
Q: What does your day to day look like on the Kent Life farm?
A: "My typical day is spent meeting guests and working closely with the Kent Life team to plan for the future, launch new initiatives and think of ways that we can enhance the guest experience and products we offer. We have big plans in the pipeline and an exciting future ahead".
Q: Do you have any funny animal stories since starting at Kent Life?
A: "I have taken to Kevin the Sheep; I take him out to meet the customers at the start of every day, he doesn't like to leave my side!"
Q: Tell us a random fact about yourself…
A: "I have been on Come Dine with Me and won the grand!"
Rob has been part of our team since March this year and is a key member of the Kent Life Family.
But that's not all that's been going on as Kent Life is about to get even better with the addition of a brand-new restaurant! This isn't just any restaurant – it's a spacious, hundred-seater eatery that will feature delicious farm-to-table dining. It will showcase locally sourced produce from the farm and surrounding areas, all served up with a charming "Farm Chic" decor that will bring the countryside indoors. We can't wait to have you join us to experience it later this summer.
If that wasn't enough to get you excited, we've got plenty of other fantastic events and activities coming up. This May half-term, we're hosting our much-loved The Great Outdoors event, and we're thrilled to welcome back The Gruffalo to Kent Life this June!
As always, we have plenty of indoor and outdoor play areas, fun farm rides, historic buildings to explore, a fun wooden hunt, and the chance to get creative in our Paint-a-Pot studio.
Want to plan your visit in advance? No problem. Check out our daily itinerary for all the latest information on what's happening at Kent Life.
We can't wait to welcome you and your family to our farm-tastic world soon!