Say hello to our donkeys, Dora, her best friend Ellie and her son George, three of our longest-serving residents at the farm.  Usually the first to greet you as you arrive at Kent Life, you may have noticed that they're currently residing in one of the top paddocks opposite the Village Hall, where they're busy giving the children rides during the summer holidays.
Did you know that Donkeys have passports just like us?  We took a peek inside our donkeys' passports and here's what we found:
Name: Dora
Date of Birth: 1 January 2001
Place: Rescue Donkey
Personal Notes: Oldest and wisest donkey in the herd and mum to George, so she's always right!
Loves: Shaking the trees in the orchard to make the apples fall down and giving rides to the children.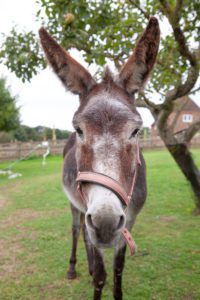 Name: Ellie
Date of Birth: 1 January 2004
Place: Rescue Donkey
Personal Notes: Known as the head of the herd, she has the darkest coat and has been told she's the prettiest!
Loves: Her best friend Dora.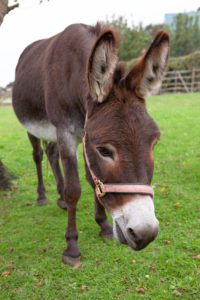 Name: George
Date of Birth: 1 May 2009
Place: Kent Life Heritage Farm Park
Personal Notes: The baby of the herd, he's Dora's son.  He's a real mummy's boy and doesn't like to go anywhere without her. Can be mischievous. Has a trademark donkey cross on his shoulders, which means he's from good stock.
Loves: Exploring the paddock and shaking down the apples, just like his mum!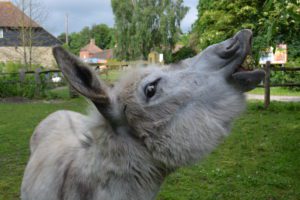 So now you've met our donkeys, here are a few more interesting donkey facts:
Donkeys can live for up to 40 years and have excellent memories. So if you meet our donkeys, they'll definitely remember you next time!

A female donkey is known as a 'Jenny' and a male is a 'Jack'.

Donkey rides are a summertime tradition in the UK, dating back to Victorian times when children took donkey rides on the beach.