Our all-weather indoor Big Top arena plays host to a variety of shows throughout the year, usually during school holidays.
All of the shows are included in the price of a standard admission ticket.
Please see details below of the next shows and dates scheduled for our Big Top!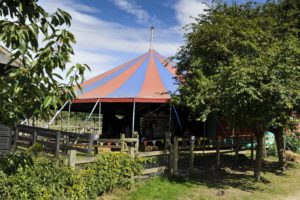 Non Stop Entertainment Magic Show - Saturday 26th & Sunday 27th May, Saturday 2nd & Sunday 3rd June
New for 2018 – The Non Stop Kids Entertainment team will be presenting comedy magic shows which are fun for all the family.
The show combines comedy, magic, slapstick and audience interaction into one fun-filled extravaganza.  Whether you are 3 or 103 you will laugh, you will be amazed and you will have the time of your life! The bottom line, this is a show that shouldn't be missed!
Shows are at 11.30am, 1.30pm & 3.30pm
BubbleJo Bubble Show - Monday 28th May
Back by popular demand! BubbleJo Bubble Show uses a wide range of exciting bubble tools and tricks to delight audiences of all ages.
Shows are at 11.30am, 1.30pm & 3.30pm
Mrs Back to Front's Punch & Judy Show - Tuesday 29th May
Welcome To Mrs Back to Front's World of 'Punch & Judy'.
Mrs Back to Front is a bright colourful Children's entertainer. She has been performing her Punch & Judy and magic show for over 30 years and is a member of The Punch & Judy Federation.
Mrs Back to Front performs a traditional child friendly Puppet show, with lots of fun, action and lots of laughs. She has performed at The Queens Jubilee Celebrations at Hyde Park,  and seen regularly at Covent Garden.
Shows are at 11.30am, 1.30pm & 3.30pm
Claws & Jaws Animal Show - Wednesday 30th May
Meet some of our most amazing and exciting creatures in the Big Top! There's a 6ft long boa constrictor, Wallace the tortoise, plus bugs, lizards, spiders and many more animals for you to meet.
Shows are at 11.30am, 1.30pm & 3.30pm
Flip's Pirate & Princess Show - Thursday 31st May & Friday 1st June
In this themed show, the naughty pirates steal the prince's and princess' treasure. It is up to all the children to help solve the magical puzzles to ensure the treasure is found. This is a great show for the children to come in fancy dress costumes!
Shows are at 11.30am, 1.30pm & 3.30pm