Our all-weather indoor Big Top arena plays host to a variety of shows throughout the year, usually during school holidays.
All of the shows are included in the price of a standard admission ticket. Please see below for the exciting line-up for February half term.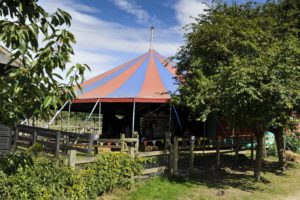 NEW! Non Stop Entertainment Magic Show! 10th, 11th, 17th & 18th February
Saturday 10th & Sunday 11th February
Saturday 17th & Sunday 18th February
New for 2018 – The Non Stop Kids Entertainment team will be presenting comedy magic shows which are fun for all the family.
The show combines comedy, magic, slapstick and audience interaction into one fun-filled extravaganza.  Whether you are 3 or 103 you will laugh, you will be amazed and you will have the time of your life! The bottom line, this is a show that shouldn't be missed!
Show Times:
11.30am, 1.30pm & 3pm.
BubbleJo Bubble Show - 12th February
Monday 12th February
Back by popular demand! BubbleJo Bubble Show uses a wide range of exciting bubble tools and tricks to delight audiences of all ages.
Show Times:
11.30am, 1.30pm & 3pm.
NEW! Mrs Back to Front's Punch & Judy Show - 13th February
Tuesday 13th February
Welcome To Mrs Back to Front's World of 'Punch & Judy'.
Mrs Back to Front is a bright colourful Children's entertainer. She has been performing her Punch & Judy and magic show for over 30 years and is a member of The Punch & Judy Federation.
Mrs Back to Front performs a traditional child friendly Puppet show, with lots of fun, action and lots of laughs. She has performed at The Queens Jubilee Celebrations at Hyde Park,  and seen regularly at Covent Garden.
Show Times:
11.30am, 1.30pm & 3pm.
Animal Show - 14th February
Wednesday 14th February
Have you ever wondered what a snake feels like? Or heard a cockroach hiss? Get the chance to meet some unique and mysterious creatures up close and personal. Learn about their habitats, diets and behaviours in this interactive talk. Perhaps you'd like to say 'Hello' to a skunk? Or feel a gecko's bumpy skin. Friendly and informative, our animal shows make learning fun!
Show Times:
11.30am, 1.30pm & 3pm.
Flip the Clown! 15th & 16th February
Thursday 15th & Friday 16th February
Back by popular demand! He will ride his unicycles, spin plates and his magic and juggling skills will mesmerise the children (big ones too!)
Show Times:
11.30am, 1.30pm & 3pm.