Welcome back! Please take some time to read the important information on this page.
We are really excited to be able to welcome you back to Kent Life and our team have been working hard behind the scenes to put new measures and procedures in place.
Our safety measures for you
We will be restricting the number of guests onsite per day
We will ask all guests (including members) to pre-book an arrival date/time online to help manage capacity
The number of hand washing facilities have been increased across the site
Providing a one way system where necessary
Enhanced cleaning routines
Our team will wear appropriate PPE where necessary
Our catering outlets will provide a take-away service
Some of our entertainment will be adapted to adhere to new distancing guidelines, and some activities may not be available at all at present
How you can help
If you, or anyone in your group, is displaying flu-like symptoms, we kindly ask that you postpone your visit to another day
Please keep your distance from other groups/households, and follow the onsite signage
Make contactless payments where possible
Wash your hands regularly for at least 20 seconds
Please wear a face covering when passing through the Oast House and Gift Shop, when visiting cuddle corner, using the courtyard toilets, our historic buildings and when purchasing from the tea rooms (over 11s only)
Please clear your own rubbish from picnic areas and lunch rooms – either use the bins provided, or take it home with you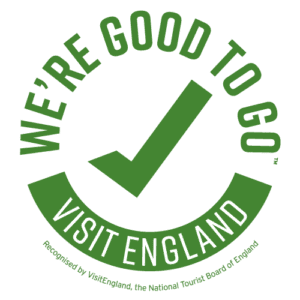 FREQUENTLY ASKED QUESTIONS
What activities will be available on my visit day?
We will provide a blackboard onsite with full details, however activities are likely to include: Tractor Rides; Outdoor Play; Games; Cuddle Corner & Farmyard Walk-through; Animal Talks; Animal Encounters; Paint-a-Pot; Wooden Hunt.
At this time, we are sadly unable to offer: Indoor Play; Land Train; Bouncy Castle; Donkey Rides; Cuddle Corner petting/seated sessions; Pedal Tractors; Big Top Shows.
As government guidelines and advice changes, we will be able to safely re-introduce further activities.
Can we visit the historic houses?
If we can safely implement a one-way system, you will be able to explore the houses. However, it is likely that some of the upper floors will be closed initially. If your school would like to visit a particular house, please let us know and we will schedule an exclusive visit.
If your group/school would like to visit the shop, please let us know and we can schedule this in for you. Alternatively, you may wish to pre-order goody bags. You can discuss this with our Education Officer on 01622 763936.
Where possible, your school will be designated the Village Hall as a lunch room therefore will have exclusive use of the toilets located in this room. These will be cleaned at regular intervals throughout the day.
When visiting all other facilities, we will be asking that each facility is only used by one or two family/groups at one time (depending on location). At regular intervals throughout the day, toilets may be closed for deep cleaning.
Accessible toilets and baby change facilities are also available.
Each school will be designated room(s) throughout the duration of the visit – the room will be thoroughly cleaned before your visit and after you leave. These rooms will be solely used by your school throughout the visit.
All equipment used in pre-booked workshops will also only be solely used by your school on your visit day, with the exception of theme days where rooms and equipment will be shared but additional cleaning and PPE where necessary will be implemented.
Please may all persons aged over 11 years old use a face covering when passing through the Oast House and Gift Shop, when visiting cuddle corner, our historic buildings, using the courtyard toilets and when purchasing from the tea rooms. However, they are not essential anywhere else on site, or whilst outdoors.
Whilst our staff will have appropriate PPE, it is up to you to decide whether you would like to cover your face elsewhere.